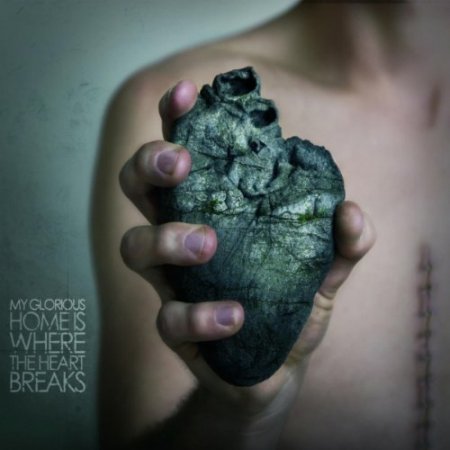 Tracklist
Diciamo che la scena indie austriaca non è per nulla famosa qui da noi. Aggiungiamoci che l'Italia è come sempre troppo chiusa mentalmente per accettare realtà musicali estranee e, più in generale, il rock, sempre troppo snobbato da MTV nonostante i timidi tentativi di avvicinamento di certi programmi infilati a forza nel palinsesto. La chiave di tutto questo è un condizionale. E se invece tutte queste band del panorama indie avessero il totale controllo delle emittenti radio e TV? Sarebbe la stessa cosa? Probabilmente tante morirebbero dopo poco tempo, tante dovrebbero commercializzarsi così tanto da diventare ridicole e ci sarebbe un pullulare di merchandising ancora più invasivo e ridicolo che comprometterebbe la serietà del movimento. La cosa è parzialmente già successa.
Ora immaginando i My Glorious in una video rotation risulta abbastanza difficile comprendere chi se li filerebbe. Nonostante ciò, questo "Home Is Where The Heart Breaks" è un ottimo disco, di pregevole fattura e assolutamente imprevedibile nei suoi sviluppi, una serie di vie e viuzze interne che si diramano come capillari all'interno di un complesso sistema circolatorio (ma suvvia, perché dev'essere per forza quello umano?) percorrendo i percorsi più disparati. In un certo momento gli U2 e i Coldplay sembrano le principali influenze (Blue Horizon e Horse, la seconda con connotazioni più indie classiche, da Wire, Pavement et similia), in altri dei beat di elettronica (o pseudoelettronica) ci riportano ai Nine Inch Nails (tenuto conto che la voce in alcune delle sue sfumature ricorda proprio il Trent Reznor dei tempi migliori), soprattutto in brani come Break My Heart, con la sua base new wave al fulmicotone che tenta di sfuggire dalle leggi della gravità con continue impennate di chitarra in power chord prelevate dai più sfrontati Joy Division (oggi in questo aspetto reincarnati nei The Hives), e You Should Be Dancing, con il suo pulsare techno nell'incipit di traccia prima dell'irruzione del basso simil-sintetizzato a preambolo di un'incursione molto franzferdinandiana, anche se la voce ricorda altri mondi (un po' Liam Gallagher, un po' gli Sparta, gli Snow Patrol o Richard Ashcroft. Gran miscuglio) volendo neanche troppo distanti da quanto si sta ascoltando. Gli austriaci poi infilano le stesse violente combinazioni di distorto e ballabilità del brano, in salsa indie pop/new wave condita con pochi sintetizzatori a vivacizzarnne il contenuto, in Blind Believer, che si inerpica in cambi di tempo il cui picco massimo è raggiunto senz'altro dalla sezione dimezzata al centro, o Atmosphere e il suo piglio da NIN inaciditi dalle chitarre di Keith Richards. Ma ora si pretende troppo. Tutti i brani sono a loro modo piccole perle indie, a volte più folk o alternative, ma sempre terra terra, come le lente ed atmosferiche It's Love When (qua si che ci si vede bene Chris Martin) e Horse, non tralasciando la tesa strumentale finale Timetraveller con i suoi inquietanti rumori da "dietro la porta di uno sgabuzzino mentre l'epidemia di zombie di là sta dilagando inarrestabile". Insomma, datela a Romero e saprà cosa farne.
Aspettarsi dischi del genere dalla scena d'oltralpe non è cosa facile. Si pensa sempre alle loro affezioni metal o hard rock, poco a quanto possano tirare fuori piccoli gioiellini di pop rock contaminato da vibrazioni elettroniche che passano tutta la storia del genere, da Jimi Hendrix e i Rolling Stones fino ai più moderni Wilco, Oasis, Interpol ecc. Nomi a parte, un disco colmo di citazioni (non quelle dirette inserite volontariamente, chiamiamole meglio "influenze", anche se il termine può tradire), un lemmario di diverse nuances che interpretato con la giusta chiave di lettura rivela il reale valore dei My Glorious, un valore che va ben altro l'assimilazione forzosa di materiale ascoltato alla bell'e meglio, come uno scorrimento veloce della recensione può lasciar presupporre, ma un accostamento ponderato e ben calibrato di tutti gli ascolti fatti negli anni dai vari membri della band, pesati al punto giusto da produrre un disco assolutamente originale, per nulla anacronistico, che suona attuale senza apparire banale, aiutato anche dalla tecnica piuttosto sopra le righe degli strumentisti ed una produzione non eccezionale ma di qualità, affidata al buon nome di Raphael Spannocchi, già noto nell'ambiente. Insomma, un disco da prendere con le pinze e da sviscerare lentamente. Se avete fretta, ascoltate altro.

Voto: 7.5