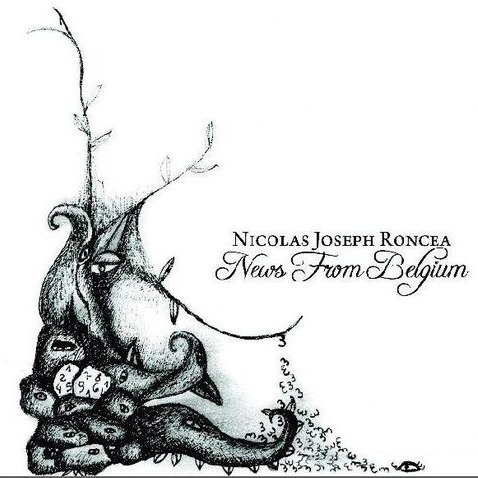 Recensione scritta per Indie for Bunnies
Tracklist:
1. In The Snow
2. A Cup of Tea
3. 3-4
4. Another World
5. 3.20 AM
6. Blue Eyes
7. News From Belgium
8. A Day/A Week
Nicolas Joseph Roncea non è un chicchessia qualunque. Due dei suoi progetti impazzano da parecchio tempo nell'underground piemontese (e non solo), attirandosi non poca attenzione. Queste band si chiamano Fuh (ascoltatevi l'ottimo Dancing Judas) e Io Monade Stanca, furenti noise acts che hanno già dato molto alla scena italiana e molto altro faranno in futuro. Dall'aggressività di queste formazioni, Nicolas ha deciso di distaccarsi per un momento di relax che tramuta in un disco solista, forgiando un lavoro semplice ma notevolmente ispirato, di sensibilità vagamente cantautorale e con inserimenti che vanno dal jazz all'elettronica, per un prodotto finale veramente stimolante e per nulla banale.
Con un'apertura abbastanza sterile affidata a "In The Snow", brano pop da stanco cantautorato, si lascerebbe magari l'amaro in bocca agli ascoltatori più esigenti, però ci pensano "A Cup of Tea" e, di seguito, "3-4" a far capire di che pasta è fatta il soggetto che stiamo ascoltando. Penetrando con efficace distensione nel nostro apparato uditivo questo disco, se centellinato e assorbito nel modo giusto, è capace di provocare reazioni piuttosto strane, ma sempre molto vicine a quelle di una terapia calmante. No, niente ansiolitici, è un lavoro fatto con cura, senza effetti collaterali. La già citata "3-4", sempre su binari di forte matrice cantautorale, che corrono paralleli a tutta la scena italiana analoga (anche se in questo caso si canta in inglese, che fa meno "indie-fashion"), arrivano anche gli archi, compatti, ad aumentare quel senso di coinvolgimento che sa, a lungo termine, rendere radiofonico anche un album come questo, che di per sé non ha pretese di quel tipo. Senza paragonarlo a nulla di esageratamente commerciale, si può parlare di un pop d'autore personale ed intimistico, con testi anche questi vagamente incentrati ad esplorare l'interiorità più che le strade dell'omnicomprensibilità, il singolo più che la massa. Ascoltate "3:20 Am" e la title-track per un po' di dettagli su questo aspetto. Bisogna aspettare anche "Blue Eyes" per alcuni momenti di straziante blues-oriented pop (o jazz-oriented? forse è meglio dire così, si), coniugati con attenzione per ottenere una lineare ballad che in alcuni momenti sprizza gioia da tutti i pori ma che, contestualizzata all'interno dell'intero News From Belgium, si rivela come una barriera insuperabile di emozioni negative, valide sferzate dark che non fanno certo riferimento al gothic. Nulla del genere, solo una certa tensione che chi ascolterà il disco riuscirà senz'altro ad avvertire pressante e preminente.
Quando, poche volte, si sente anche una batteria, si può cogliere quel senso del ritmo che in certi brani tende ad essere assente, dando ai pezzi un motivo ulteriore per esistere, rendendoli cioè ricettacoli di una fisicità, come dentro "A Day/A Week", canzone semplice ma incapace di sfiorire, a suo modo avanguardista. Ed è un bene che un disco senza fronzoli né sperimentazioni sappia essere originale, personale e caratteristico. Tutto merito di un songwriting ineccepibile e di un'interpretazione che non lascia mai a desiderare, salvo in un alcuni piccoli passaggi di voce che perdono a causa di una timbrica non sempre adatta. Ma sono attimi passeggeri che, sommersi da tutti gli altri aspetti positivi, molti non noteranno neppure.
Un disco fresco, ingenuamente rock, perla di cantautorato come Dio comanda. E lo dice un ateo. Ascoltatelo.
Voto: 8